Colorado River Update: Save The Colorado highlighted in America's largest-circulation newspaper, USA Today!
Hi Friends of the Colorado River!
It's YOUR support that keeps us working hard — please donate online by clicking here. 
We are making news across the USA! First, USA Today, America's biggest circulation newspaper, highlighted our work to protect the Colorado River and our program
advocating for the decommissioning of Glen Canyon Dam. As the drought and climate crisis worsens in the Colorado River basin, Lake Powell and Glen Canyon Dam are approaching "power pool" where the dam will no longer be able to generate electricity.
The U.S. Bureau of Reclamation stated, "It's possible the Glen Canyon Dam will have to stop generating power this summer…" 
To which we replied, "It's time to decommission Glen Canyon Dam, a doomed structure that should never have been built in the first place," said Gary Wockner, executive director of Save the Colorado. Propping up Lake Powell would require paying farmers to stop irrigating massive swaths of the Southwest, he said, "which would be a huge waste of money because the climate science indicates that the Colorado River will get even lower and drier in the future."
Second, our "No New Dams and Diversions" campaign got a shot in the arm last week when the Colorado Sun highlighted our work against a proposal for a huge new dam and reservoir in Western Colorado. Called the "White River Project", the dam proposal
desires to pump billions of gallons of water out of the near-pristine White River in Rio Blanco County and then pump that water into a reservoir site on Wolf Creek. We've been bird-dogging this proposed dam for a few years and it will likely be our Next Big Dam Fight. The proponents claim they will launch permitting in the "next few weeks".
We told the Colorado Sun, "The way that you keep rivers alive is to keep water in them. We're trying to speak up for the rivers themselves. If the Rio Blanco Water District starts federal and state permitting, they should expect a long, vigorous, and expensive battle for decades into the future," said Gary Wockner of Save The Colorado.
The fight over the White River will join other proposed new dam fights in Colorado including the Whitney Reservoir Project in Eagle County which is also expected to start its permitting process this year. It's INSANE to building new dams and diversions as the River collapses into uncertainty, and our NO NEW DAMS AND DIVERSIONS campaign is the leading voice in this fight across the Southwest U.S.
Finally, our Rights of Nature for Rivers campaign continues to move forward. We're having ongoing conversations with new cities and towns about adopting Rivers of Nature for Rivers resolutions, and we're continuing to support communities that have adopted our resolutions.
The Town of Nederland, Colorado, continues grapple with a massive expansion of mine just upstream of their watershed. The water quality impacts in Boulder Creek are also of serious concern to the City of Boulder, Boulder County, and the State of Colorado. In fact, the State recently fined the mine for polluting the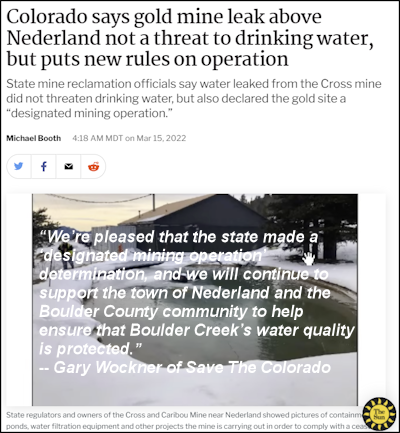 watershed and strengthened the state's oversight of mining activities.
The Colorado Sun reported this story also, to which we said, "We're pleased that the state made a 'designated mining operation' determination, and we will continue to support the town of Nederland and the Boulder County community to help ensure that Boulder Creek's water quality is protected," said Gary Wockner of Save The Colorado, which last year worked with Nederland officials to pass a resolution conferring "rights of nature" on the Boulder Creek watershed.
We are working hard and making a difference! Whether it's fighting one of the dumbest dams in the U.S. (Glen Canyon Dam), or fighting to stop new dams, or protecting rivers with Rights of Nature, we are smack dab in the middle of it!
Your support keeps us working hard and really makes a difference. Please donate online by clicking here. 
Thank you, and stay tuned for more action this week! We have even more (and BIGGER) news coming soon!