Colorado River Update: There are now TWENTY TWO proposed new dams/diversions/pipelines!
Hello Friends of the Colorado River!
Believe it or not, we are now tracking (and opposing) twenty two (22!) proposed new dams/diversions/pipelines in the Colorado River basin in Colorado, Utah, Wyoming, New Mexico, and Arizona!
TWENTY TWO!
All of these proposed projects are listed on our website here under "Irresponsible Water Projects". The sheer number of them, as well as the complexity and details, is dizzying. Most recently, two new projects have popped up including a massive proposed "pumped hydropower project" beside Lake Powell in
Arizona, and a new pipeline on Cow Creek near Ridgway, Colorado. The effort to further dam, drain, and destroy the Colorado River and its tributaries seems to be escalating very month.
And we are in the trenches of that fight! A few updates:
First, last week, Denver Water refused to abide by a judge's ruling that Denver Water needed to get a permit from Boulder County to massively expand the Colorado River-draining Gross Dam project. Denver Water has now notified the court and the County that Denver Water is "appealing" the judge's decision to the state court of appeals. We are an intervenor in this case, and will continue to defend Boulder County as long as it takes. Check out this story in The Denver Post here, where I say:
"Denver Water continues its antics as an aggressive, bully agency trying to ram this massive dam down the throats of Boulder County citizens," its executive director and co-founder Gary Wockner said in a statement. "We will continue to defend Boulder County against this river-destroying project and fight Denver Water as long as it takes."
Second, we are also tracking bills in state legislatures across the Colorado River basin. Many of these bills are going the wrong direction, or at best, propose tiny incremental solutions instead of the consequential systemic change needed to protect and restore rivers. In Colorado, one bill is proposing new technology to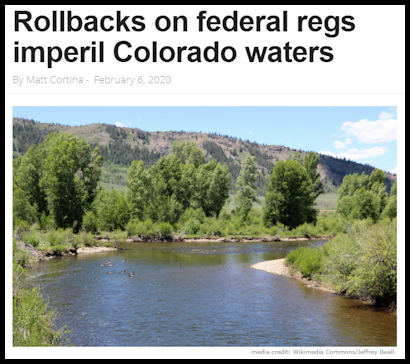 measure the amount of water that farmers divert out of ditches. While a good idea, it is a drop in the bucket of what needs to happen to actually protect and restore rivers. Check out this story in the Longmont Times-Call here, where I say:
"The technology that's being used right now to measure the amount of water that is taken out of a river is not just 20th century, it's 19th-century technology," said Gary Wockner, the co-founder and executive director of Save The Colorado. "More accurately counting and monitoring water use should help increase the health of rivers … but there are still 50 things that should be done before ever making a new dam or diversion. A lot of this is just tinkering around the edges. The changes that need to be made are systemic and consequential."
Third, we are also engaged somewhat in the fight against the Trump administration which is trying to undermine the Clean Water Act and the National Environmental Policy Act, two federal laws that are central to our work to protect and restore rivers. Check out this story in the Boulder Weekly here, where I say:
"Basically it takes protection away from intermittent and perennial streams, anything that doesn't flow year-round," says Gary Wockner, director of Save the Colorado. "If this goes through, we will no longer be protecting a lot of streams in the mountains that don't flow year-round. That's extremely bad news, there's no other way to look at it."
In the coming weeks, we will keep you informed of our new work to fight proposed dams and pipelines — much more is coming soon and throughout 2020.
It is your support that keeps our small organization fighting hard. We greatly appreciate your support!
Please donate by clicking here.
Thank you for your support!
Gary Wockner, Director, Save The Colorado