Colorado River Update: We're in the Los Angeles Times and on Fox News!
Hi Friends of the Colorado River,
As the summer winds down, our effort to protect and restore the Colorado River is winding up even faster. First, two water agencies — one in northwest Colorado, and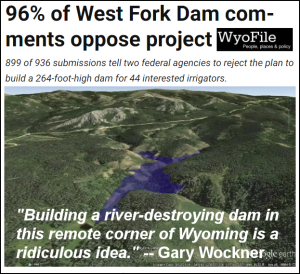 another in southern Wyoming — have launched "feasibility" studies for new dams on relatively free-flowing rivers. The U.S. Bureau of Land Management in Rio Blanco County, CO has launched a feasibility study for the proposed "White River Storage Project"; and the U.S. Natural Resources Conservation Service in Carbon County, WY, has launched a feasibility study for the proposed "West Fork" dam project in the Little Snake River drainage.
For geographic reference, the White River in CO flows into the Green River in UT, which flows into the Colorado River in UT, whereas the Little Snake River in WY flows into the Yampa River in CO, which also flows into the Green River in UT.
We have submitted scathing technical comments against both projects. Like all dams, not only will these projects further harm the ecological health of these rivers and the species that depend on the river for survival, but they will cost hundreds
of millions of dollars for specious benefits that could be gained by faster, easier, cheaper alternatives.
We've also spoken out in the media multiple times against these two projects and will continue to watchdog them closely.
Second, we're thrilled to get TV news (again!) for our campaign to decommission Glen Canyon Dam. As the U.S. Bureau of Reclamation launches its Environmental Impact Statement process for how the Colorado River and the dams are managed, the media will be taking a deeper look at this issue.
You can watch the Fox 13, Salt Lake City, report by clicking here.
Further on this issue, we want to thank the HUNDREDS of you that clicked through on our Call2Action to the Bureau of Reclamation and sent a comment letter about decommissioning the dam. You can still click through and send a comment from our secure website here.
Finally, for the last year, we've been working with outdoor apparel company, Patagonia, on the "Tell The Dam Truth" campaign, and we're thrilled to get media attention for it. Last week, the LOS ANGELES TIMES  picked up the story about how dams and reservoirs emit greenhouse gases (GHG) that cause climate change (read the LA TIMES story by clicking here).
We helped create a tool and study that estimates GHGs from a massive proposed dam/reservoir in California called "Sites". We will continue this great work and we will be helping to deploy the tool at other terrible dam projects in the U.S.
It's your amazing support that keeps us working hard, getting media attention, and protecting rivers across the West.
You can donate online by clicking here.
Thank you for your support!